Lynn Miles w/Keith Glass House Concert Fri Nov 9
November 9, 2018 @ 7:00 pm

-

10:00 pm

$30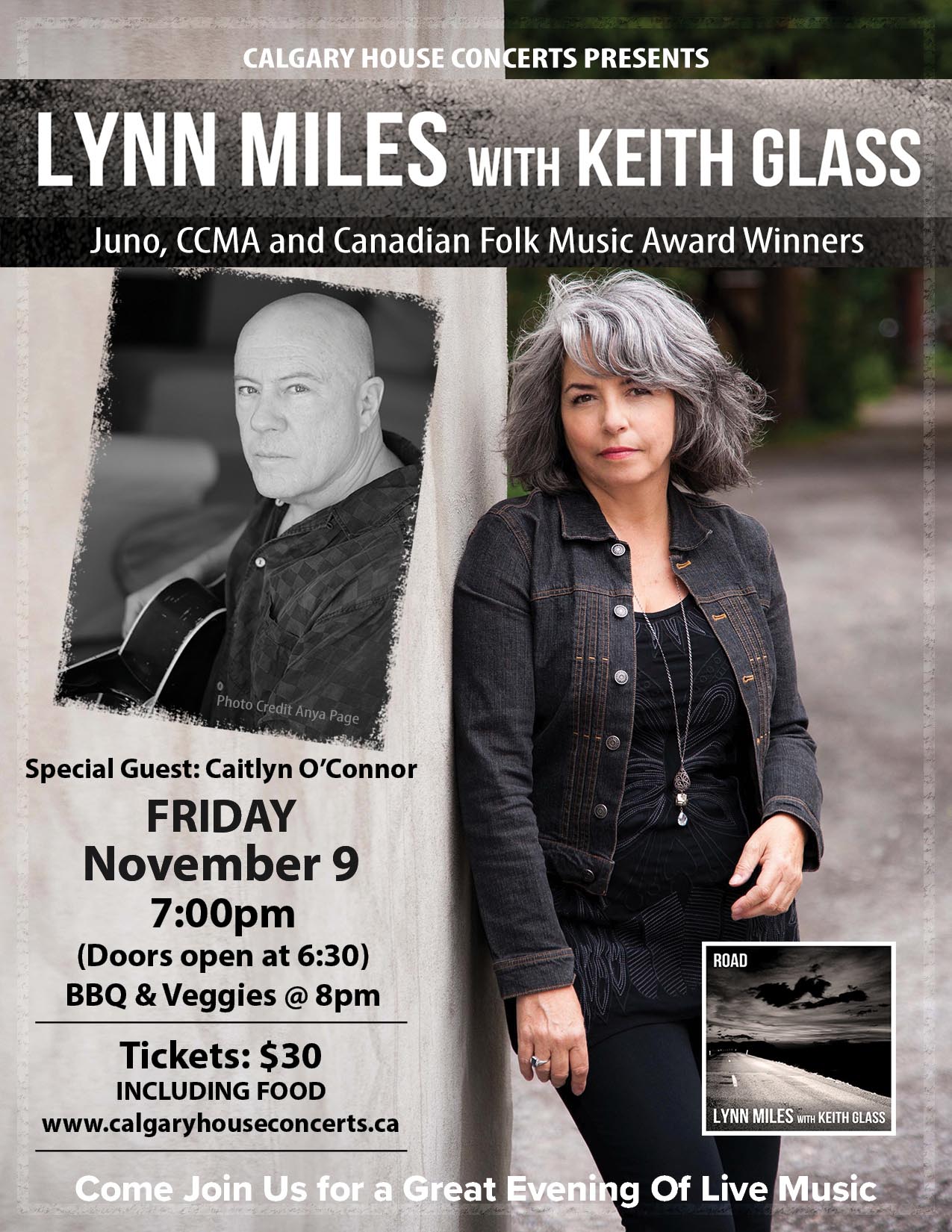 I am stoked to host for these award winning artists Lynn Miles and Keith Glass to stop in at our little house to perform and share an intimate evening of live music with us.
So with that being said we would like to extend you an invitation to join us here at Calgary House Concerts on Friday Nov 9 7:30 PM for an evening with these 2 seasoned professional artists complete with a bit of food and a few other live music enthusiasts. You bring what you are sipping on and we provide the rest.
In addition to the decades of experience and talent with Lynn and Keith we have also invited a new up and coming multi talented local artist from Calgary Caitlyn O'Connor to open up the show so we are in for another amazing evening without doubt.
I have live linked to each artists website so please take a look at their Bio's and listen to give you an idea of who they are and I look forward to having you join us to enjoy the talents of these amazing artists and share a bit of BBQ and some good times with a small group of great people. Come on along !!
We only have 35 seats still available so it is recommended to book seats ASAP as it is expected to sell out early
7:00 PM : Doors open
7:30 PM : Caitlyn O'Connor
8:00 PM : Lynn Miles / Keith Glass (Set 1)
8:45 PM : BBQ and Veggies
9:15 PM : Lynn Miles / Keith Glass (Set 2)
Reserve Your Tickets
$30.00Go To Checkout
Lynn Miles


https://www.facebook.com/lynnmilesmusic/

http://www.lynnmilesmusic.com/

Lynn Miles is one of Canada's most accomplished singer/songwriters. With thirteen solo albums to her credit, the Winner of the 2002 Juno award for Roots and Traditional Solo Album of the Year and Multiple Canadian Folk Music awards including the latest 2013 "Solo Artist of The Year" for her CD "Downpour" and 2011 "English Songwriter of the Year".

Lynn is one half of the duo "THE LYNNeS" who in 2018 released the Album "Heartbreak Song For The Radio". which has received 5 Canadian Folk Music Award nominations. She has also produced several CD's for fellow artists, including singer/songwriter Lynne Hanson's "River Of Sand" Album, and "Seven Deadly Spins".

Her song "Black Flowers" is on the 2017 Grammy Nominated "North By South" album by Claire Lynch. As well her song "Three Chords & the Truth" is included in the BBC TV show "Case Histories."

In 2013 Lynn was nominated for an Edmonton Theatre Sterling Award for best musical score, along with her guitar player Keith Glass.

Lynn was an instructor in Carleton University's popular music program for five years, teaching performance and songwriting. Lynn has toured and continues to tour across North American, Great Britain and Europe.
Keith Glass
https://keithglassmusic.wordpress.com/about/
Keith Glass is a singer/songwriter, multi-instrumentalist (guitar, mandolin, bass), and producer, and a founding member, guitarist, and songwriter with Prairie Oyster, a group which has received critical acclaim, including Multiple Juno and CCMA awards. Prairie Oyster is often cited as the country's foremost roots/country band. They toured extensively in Canada, the U.S. and Europe over a career that spanned almost four decades.

In 2008,Prairie Oyster was inducted into the Canadian Country Music Hall of Fame.

Keith and his band mates are also the recipients of a SOCAN lifetime achievement award.

When he is not taking playing solo shows or with Keith Glass Band, Keith also performs with Lynn Miles.