Shirley Jackson w/Jef Wirchenko Duo Sunday July 21 4:00 PM
July 21, 2019 @ 4:00 pm

-

7:00 pm

$20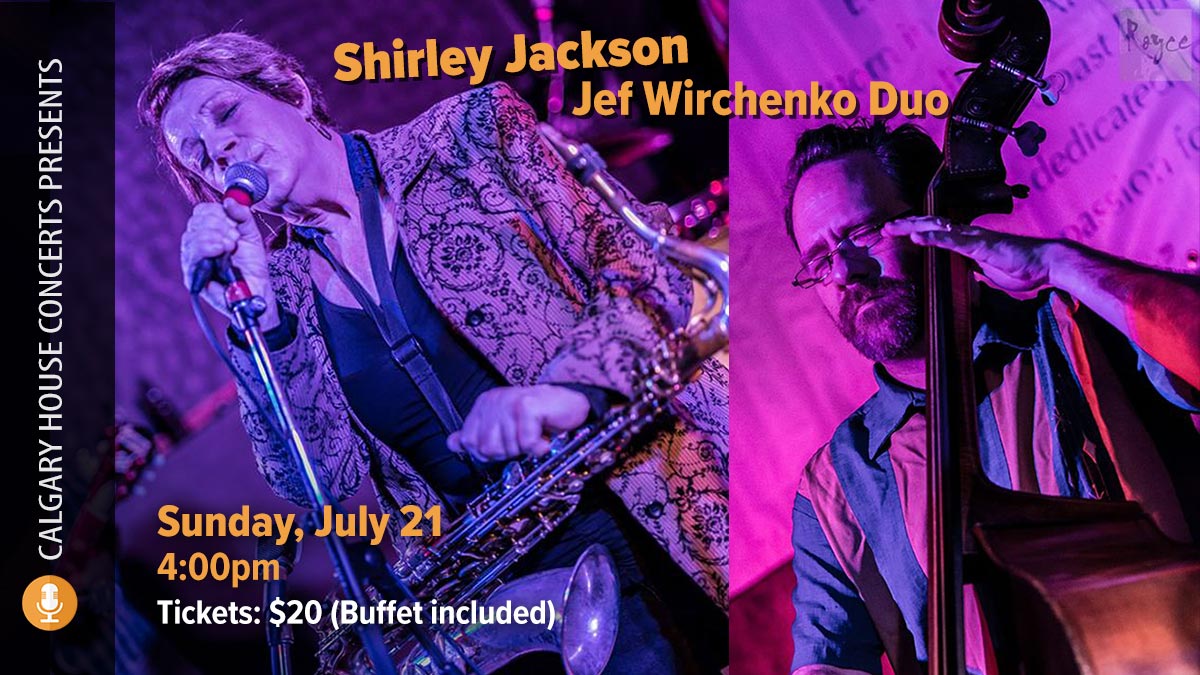 We are once again looking forward to hosting Shirley and Jef in July 2019.
We had such a blast last year when this duo rolled into Calgary we want to do it again!
So come join us for an afternoon of Shirley and Jef's talents complete with some tasty vittles shared in our intimate setting with a few dozen other music supporters.  One of the best ways to spend an afternoon and we are stoked to have you join us …..
Shirley Jackson BIO
Things Keep Lookin' Up' for Shirley Jackson with the release of her digital recording. 'Things Keep Lookin' Up' is a collection of sixteen songs; nine of which are Jackson's originals; some of her best yet. There's some dirt, grit, swing, some spunky instrumentals, along with some classy swingin' blues classics.
With three Maple Blues Nominations and two wins and four ECMA Nominated recordings; Shirley Jackson has been fuelling the dance floor with a mix of horn-powered east coast blues with her band; . The Good Rockin' Daddys stylized by Jackson's own song writing and arranging.
The Duo
Shirley (vocals, guitar & tenor sax) and her son; Jef Wirchenko on acoustic bass have entertaining audiences on stages and house concerts with their acoustic duo with some roots, blues, soul & swing.
Awards-Nominations
Shirley Jackson (Tenor Sax, vocals) Toronto Maple Blues Award Recipient 2018 for Horn Player, Nomination for the Maple Blues Horn Player in 2017 and 2013, Recipient of the Toronto Maple Blues Award for Horn Player of the Year in 2003.
To date: Jackson has produced four ECMA nominated recordings and three Nova Scotia Music Award nominations.
'Things Keep Lookin' Up'. (2017)
'When The Money's All Gone.' (2012)
'Comfort Food' (2008)
'Careful What You Ask For' (2003)
Tour 2018 generated a busy season with theatre shows and festivals in Alberta and on the East Coast with the Harmony Bazaar Festival, Atlantic Jazz Festival, Kings Theatre, Grace Jollymore Joyce Theatre, Chester Playhouse Theatre, Bicenntial Theatre and the Marigold Theatre along with the regular blues haunts and venues promoting their new CD release, 'Things Keep Lookin' Up'.
Other tour highlights over the years have been appearances at the Harvest Jazz & Blues Festival in Fredericton, the Tillotson Theatre, New Hampshire, USA, Quebec City, Edmundston Jazz & Blues Festival. Other national and international highlights include the Calgary International Blues Festival, AB; an Election Campaign Party, Los Angeles, California to Poppa Mojo's, Raleigh, North Carolina, Kitchener Blues, Brews & BBQ, ON; Maximum Blues Festival, Carleton, Quebec; Harvest Jazz & Blues Festival in NB; and headlining numerous Blues & Jazz festivals on their home turf in Nova Scotia.
Jackson often says if you want a great bass player you have to 'Grow your own' and that is exactly what she done with her son- Jef Wirchenko as the bassist for the Good Rockin' Daddys for the past 25 years. The positive chemistry between the musicians comes through in their performance and their music is as genuine as the musicians themselves.
bookings: (902) 448-5133
saxjackson@shirleyjackson.ca
www.shirleyjackson.ca