The Blue Hearts Trio House Concert Sun May 26
May 26, 2019 @ 4:00 pm

-

7:00 pm

$20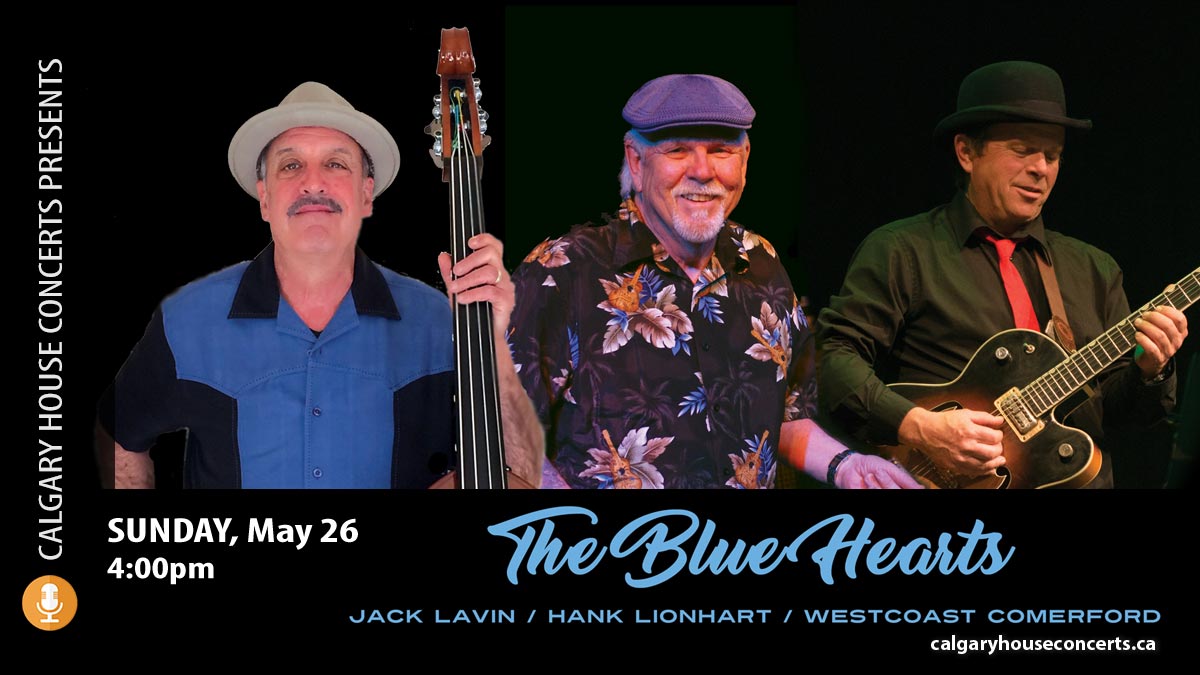 Reserve Your Tickets Now!
$20.00Go To Checkout
We had so much fun here back last April with Big Hank Lionhart & Mark "Westcoast" Comerford, it is great news to announce we have a return visit with these amazing artists so be sure to grab a friend & join us for a great afternoon of live music & tasty food in an intimate setting
Joining them this time around is another Canadian icon  Jack Lavin, a founding member of the Powder Blues Band.
With musical careers that span back to the late 60's both these artists have decades of music within their souls that always brings a great show along with them and you are invited!!
So come along and join us Sunday, May 26 for an intimate afternoon journey with these world class artists, several other music enthusiasts and hopefully some tasty eats…
THE BLUE HEARTS
Mark Comerford: Guitar & Percussion, Vocals, and Big Hank Lionhart: Lead Vocals. Mark and Hank are both members of RCA recording artists, Uncle Wiggly's Hot Shoes Blues Band who have performed all over Western Canada for the past 4 years since their reforming of the band.
Both have been playing and recording the Blues for over 40 years with each other and in other Blues bands. They have opened shows for Muddy Waters, Joe Cocker and more recently for Burton Cummings. In 2016, they represented British Columbia in the Solo/Duo category at the annual International Blues Challenge in Memphis, Tenn where they made it to the semi finals. This was followed by the release of their debut album Pumpin Out The Blues and performances across BC and Alberta, such as the Salmon Arm Roots & Blues Festival, Island Folk Festival, and 39 Days of July. and they are representing BC again this coming January 2019 in Memphis for the International Blues Challenge.
Newest member of the Blue Hearts is a founding member of the Powder Blues Band, Jack Lavin on Bass. Jack is a terrific song writer and vocalist as well as an amazing bass player. They are excited to have him aboard with them.
They have just released their new CD Two Way street which features 10 tracks recorded at Blue Frog Studios in front of a live audience and 6 tracks recorded at One Ton Studios in Victoria.
Here is a few links to view:
Website: thebluehearts.ca
Facebook: www.facebook.com/theblueheartsduo
Uncle Wiggly's Hot Shoes Blues Band www.unclewigglyshotshoesbluesband.com